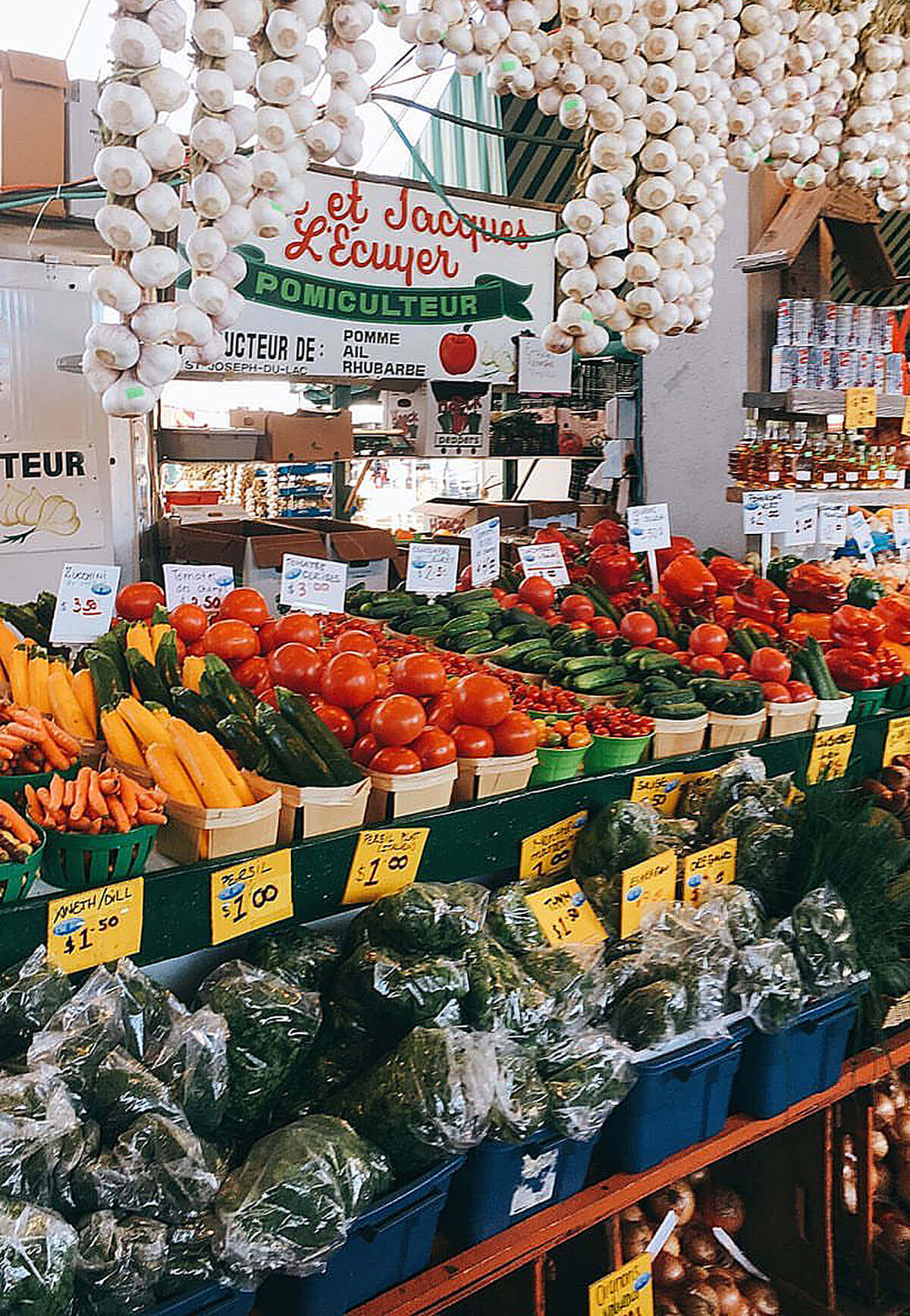 The Jean Talon Market is Montreal's largest farmers market. It's been functioning as a market since 1933 and is open 361 days a year. It also just happens to be my corner store, as I've often referred to it. I live about two blocks from the Jean Talon Market and moved to this area of Villeray over a decade ago because I wanted to be near this market that holds a special place in my heart.
I work from home so I often head to the market for a daily walk among the colourful aisles of seasonal and local Quebec fruits and vegetables, especially when it's nice out. It's one of my favourite places in Montreal and is often the inspiration behind simple lunches or more sophisticated dinners. There's nothing lovelier than discussing food with some of the market's purveyors. These colourful characters are the most interesting people in the food industry and a direct link between the farm and the plate. Can you tell how much I love this place? If you follow me on Instagram, you will have noticed that I share quite a few photos of the market on my feed and in my stories (check my Market highlights).
Market tours
In an effort to share my love for the market and its people, I started giving tours of it about 6 years ago. It's not my main job and I do it on the side because I really like doing it. The tours last 2 to 2 and half hours and always consist  of small groups for a more intimate feel. I tell you a little bit about the history of the market and the neighbourhood then we visit and chat with some of my favourite vendors. There are tastings along the way so you certainly won't leave hungry. I do it via Context Travel but I've never actually written an article about it on the blog. You can certainly book your tour via Context Travel but you can also email me directly and I'll be happy to book a date with you. The tours are great if you're a tourist who is interested in exploring some local products but it's just as great if you're a Montrealer and don't know the market well. You'll be able to discover more about the market's history, hear some anecdotes and find out where you can get the best tomatoes, corn, cheese or charcuterie and more.
Custom private food tours
You can also book a private tour of the market and surrounding neighbourhood if you'd like. Whether you're a family travelling together or a group of food lovers visiting and want specific things such as a wine or craft beer tasting, a food tour of Little Italy or a tour of Montreal's classic foods such as bagels, smoked meat and more. Just get in touch and together, we'll figure out how to best accommodate your tastes.
If you're interested in booking a tour of the Jean Talon Market or any other food related tour, or if you have questions, leave me a comment below or email me. I look forward to taking you on a discovery of my market!
Read more about the Jean Talon Market here.

Related Posts: