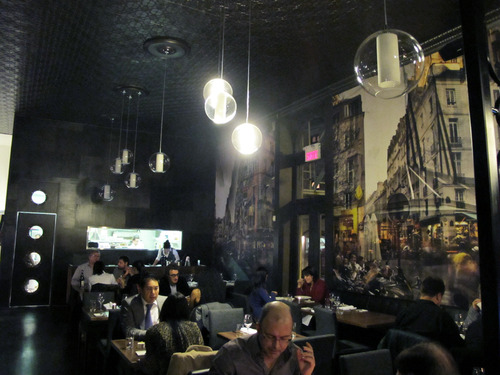 I had been anticipating the opening of Les 400 coups for a few weeks now. I was especially anticipating tasting some of pastry chef Patrice Demers's desserts. I couldn't get there soon enough so I made reservations for their second day of opening this past Tuesday night.
The restaurant is located on Notre-Dame street in Old Montreal where the old Resident used to be. The space is airy with very high ceiling, a bar on one side and an open kitchen in the back. A huge painting of Nicolas Ruel covers one whole wall of the restaurant. We were greeted by sommelière Marie-Josée Beaudoin – who is one of the 3 owners – seated by the window and of course offered a nice glass of Sauternes. Chef/owner Marc-André Jetté's menu seemed very interesting and creative but I couldn't make up my mind and asked the waiter for an omakase-style (up to the chef) appetizer and main meal. A tasting menu is available but we weren't hungry enough for a 5-course meal.
The first course we got was a Jerusalem artichoke soup with buttermilk mousse and bottarga shavings delivered by Demers himself. This meal was boding well because the soup was absolutely spectacular!
It was followed by our 2 appetizers: a yellow beetroot salad with crispy beef marrow, radish, yogurt and yuzu and a beef tartare with mustard ice cream. The beetroot salad was so fresh and who knew I would enjoy deep fried beef marrow so much? The tartare could very well be the best beef tartare I've ever had! And the mustard ice cream? Absolute genius!
Not knowing what to expect adds so much to the dining experience. The element of surprise is like receiving a gift from the kitchen. From where I was sitting I could see Jetté and Demers hard at work in the kitchen and I couldn't wait to see what they were going to be sending our way. We got the mackerel with Peking duck raviolis, parsnip purée and brussels sprouts and the black cod with dashi, rock shrimp, oyster mushrooms and a green apple/wasabi condiment. Both fishes were cooked to perfection, tender and moist and absolutely scrumptious.
The time had come for my very favourite course of any meal but especially this one, since I was so looking forward to Demers's desserts. We picked the desserts ourselves and I went for the chef's signature Green dessert, a mix of apple, pistachio, olive oil, coriander and creamy white chocolate yogurt, absolutely divine! We also tried the Araguani chocolate mousse with pear sorbet, caramelized nuts and sapote which was amazing as well.
One would think that for a chocoholic like me, the choice would be obvious – and it usually is – but I walked out of Les 400 coups seeing the world though green-tinted glasses! I wanted to take a green home but was told it wouldn't make it. I guess that just means I'm going to have to go back soon.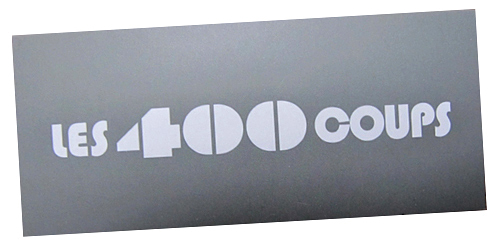 Les 400 coups
400 Notre Dame East
514 985 0400

Related Posts: