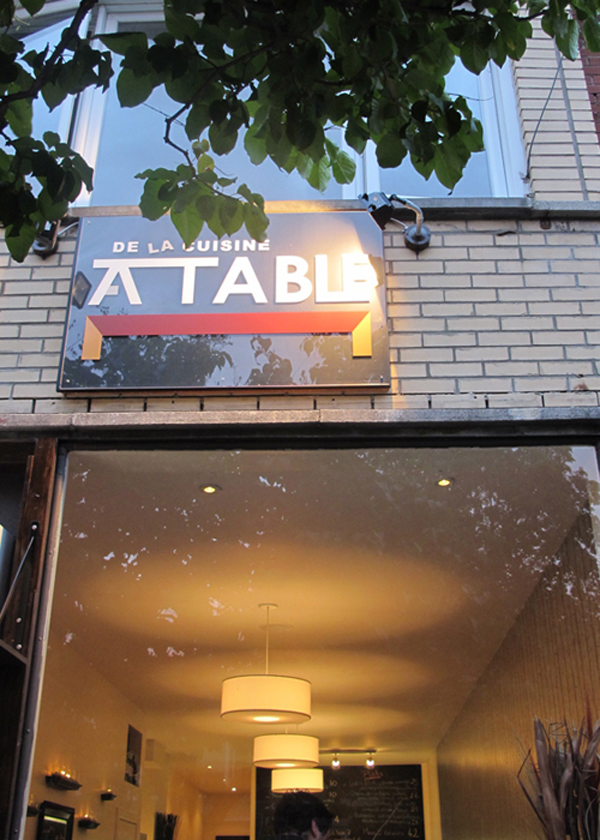 When I heard that Chef Mario Navarrete Jr. had opened a third restaurant, I was giddy with anticipation. You see, chef Navarrete is one of my favourite chefs in Montreal. I have had some of the best meals at his 2 other restaurants Raza and Madre. I have said again and again that I could probably survive for the rest of my days on his ceviche and sweet potato bread pudding alone. All that being said, I finally managed to make it to his third restaurant, À Table, last Friday night. It is located in Ahuntsic, about a half a block away from another famous Ahuntsic spot, Le St-Urbain.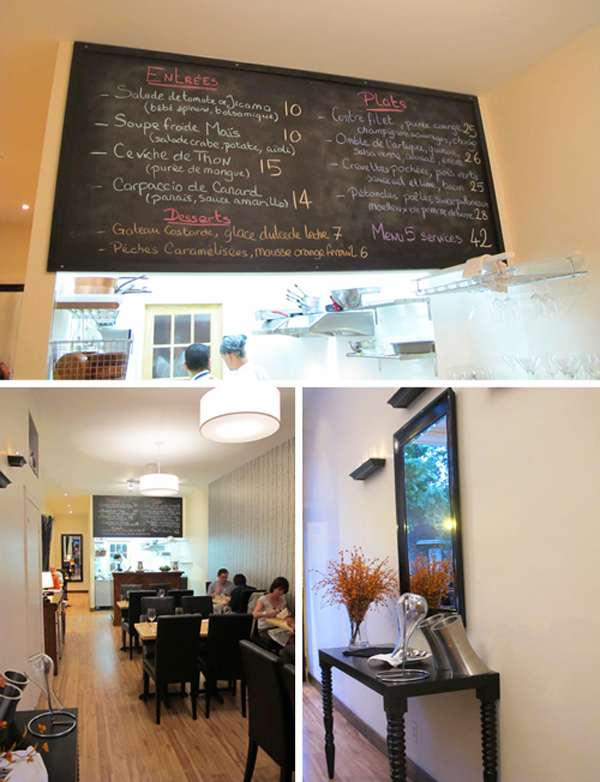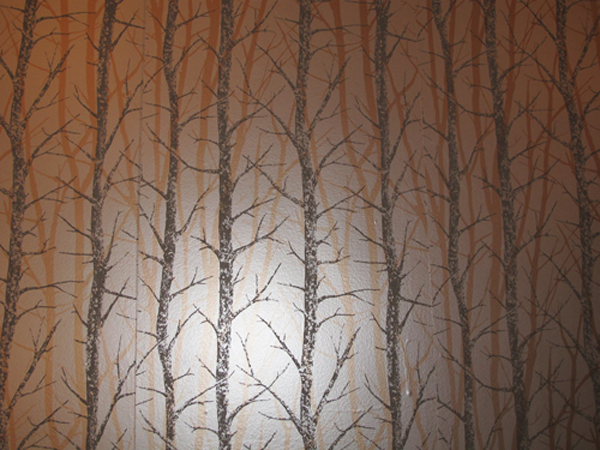 I must say that being greeted by an unsightly air conditioning machine hanging (and dripping!) over the door was a bit disconcerting… but I quickly dismissed it and started checking out the small, 28-seat restaurant. The decor is very similar to Navarrete's two other restaurants in that it is very simple. However this one has a much more casual look to it with its dark brown chairs and blond wood table tops. The wallpaper on the right hand side of the restaurant is beautiful and adds depth to the small space. The menu is written on a blackboard hovering over the open kitchen. It is a menu inspired by seasonal and local fares and one that will be changing every couple of weeks (according to our waiter). The kitchen is held by Chef Rodrigo, who was the chef at Madre and who has been working with Navarrete for the past few years.
After we were seated, we were offered a Pisco sour, which I have been offered (and have tasted) at all of Navarrete's restaurants. I have to say that I have never had a pisco sour anywhere else, only at these restaurants and they have always been good. The one topped with a very foamy and airy lime mousse at À Table on friday night was no exception. The evening was shaping up to be a good one.
When it came time to order, it was decided (yes, I might have had something to do with that decision) that I would order à la carte and my companion would order the 5-service tasting menu which will give us the opportunity to taste more things. I was taken aback when we were given a small dish filled with ordinary baguette! In case you've never been to a Navarrete restaurant, one of the things to look forward to is the amazing freshly baked bread! We later found out that since they haven't received their oven yet, fresh bread is not on the menu for now but will be as soon as possible. So keep in mind that this whole meal that I'm about to describe was cooked on the stove top!
We started off with two different ceviches, the one à la carte was a tuna ceviche with a mango purée and the one on the tasting menu was a scallop ceviche with a parsnip purée. The scallop ceviche had a much milder taste and texture than the tuna ceviche which was spicier. I was afraid the mango purée would overwhelm the taste of the fish and make this dish too sweet but it was perfectly balanced. Both ceviches were very good but it made me realize that I am a classical ceviche kinda girl: I want that very sour lime note in my ceviche and anything else will not satisfy that craving.
The second dish of the tasting menu was a chilled corn soup topped with a warm crab and potato salad: simply divine! I stole a few spoonfuls and the warm crab-potato salad could've stood on its own but was a perfect accompaniment to the rich and creamy corn soup. Nicely done!
For our main meals, my dinner companion had the filet mignon with wild mushrooms on a bed of squash purée and I had the poached shrimps with bacon and lime, garlic and butter sauce with pea purée. I had a tough time chosing my main meal and picking between this shrimp dish, the arctic char one and the scallops. I was very happy with my choice because the shrimp were just perfectly cooked and the crispy bacon pieces added a texture and taste contrast to the sweet pea purée and buttery shrimps. The only thing I was not sure of on my plate was the bacon powder.
The 5-service menu included a "trou normand" at that point of the meal with a mango sorbet with caramelized almonds topped with a lemon mousse. It was like having a first dessert before the desserts. The menu only had two desserts on it, the chocolate custard cake with dulce de leche ice cream, which was included in the tasting menu, and the caramelized peaches with orange-fennel mousse and caramelized almonds, which I ordered. We then quickly switched desserts because, well, because I am a chocoholic and my friends know better than to stand between me and my chocolate 🙂 But since I am nice, I did share 🙂 The chocolate cake was dense and the dulce de leche ice cream delicious. I did try the caramelized peaches and even though I don't believe anything containing fruit can be considerate dessert 🙂 it was very refreshing. Overall, a very enjoyable evening in a very young restaurant that has a little bit of growing up to do.
The service was not what I had been used to at Madre and Raza where the waiters have always been spot on. I have always had the impression that they had been working there for years and were part of the MNJr family. I must say that I did not get that impression this time around. The service was a bit slow and the only waiter there that night was not as knowledgeable or quick, even though the restaurant was only half full. However, it has only been open for two weeks and perhaps that particular machine hasn't been oiled well enough yet. I will definitely be going back if only to have the home made bread and to try a new menu. If I am not mistaken, it is the most affordable of all of Navarrete's restaurants and will be a winner I'm sure.
À Table
124 Fleury West, Montreal
514 439 1966
[email protected]
Sunday brunch: 10am-3pm
Tuesday to Friday lunch: 11:30am-3pm
Tuesday to Saturday dinner: 5:30pm-10pm

Related Posts: