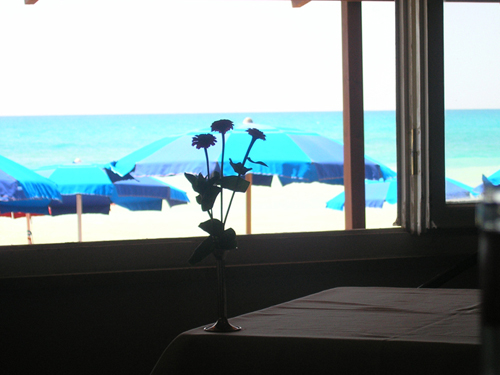 What is your favourite restaurant in the whole wide world? Let me rephrase that, what's the best dining experience you've ever had? I have a few on that list, among them are Eleven Madison Park and Le Bernardin in New York City and The Paul in beautiful Copenhagen (unfortunately, The Paul is now closed). However, one of the best dining experiences I've ever had was at this little place on the beach in a small town called Marina di Bibbona in Tuscany. I know, that's a long way to go for Italian food, especially when you live in the heart of Little Italy like I do! This divine place is called La Pineta and the food there is phenomenal. However, it is not just the food and the impeccable service that makes it one of my favourite restaurants in the world, it's the story of how I got there, it is the perfectness of that particular day, the mood, the way the sun lit up the water, the way the sand felt under my feet, the feeling as if I was discovering a great big secret…
I visited Italy for the first time about a year and a half ago. On the last day of a week-long drive through Tuscany, we left Elba and started heading back home (close to Rome) but had reservations at La Pineta for lunch. It was an hour in the opposite direction so when we got off the ferry from Elba, we debated whether or not we should just forget about it and start on the 4-hour drive back home. I am so glad we decided to go ahead with our original plan! When we arrived in Marina di Bibbona guided by our trusty GPS (not!) we asked around and were pointed in the direction of a dirt road towards what seemed to be camping grounds. At this point I was very much doubting whatever website had made us believe that this was worth the trip. I was tired, hungry and cranky (those usually go hand in hand for me) and just wanted to eat and go home. I kept driving on this unpaved road knowing that I was driving parallel to the sea but not being able to see it because of the dense pine forest hiding it. I finally made a sharp left turn and hallelujah! I could finally see the water. The only visible restaurant on this stretch of typical Italian beach was a pizza shack! I couldn't believe we had gone out of our way and driven all this time for a pizza shack! I parked the red Fiat 500 while my friend went to inquire. I was getting really desperate until I saw B. waving his hands at me indicating that we should park and go join him and so we did. To my surprise, through the pizza shack and just behind it was hiding one very classy white-linen, silver cutlery, crystal-clad restaurant. This little hidden gem with its feet in the sand and an amazing view of the sea instantly charmed me. All my frustrations vanished instantly and I couldn't believe that such a place could exist on this beach. My friends decided to go with the tasting menu while I decided to pick à la carte. One little side note here, La Pineta is a family-run restaurant and the owner is a former fisherman who still gets his daily catch from his family's fishing boats every dawn. The daily menu is then created according to the catch. Yes, it was that kind of place…
So I started with a plate of crudo, including two types of raw shrimp, so sweet and tasty, with specific instructions to eat it in a certain order and which ended with bites of smoked mackerel with mascarpone and caramel. Who would've thought that I would like something that tasted like smoked fish candy! But all the elements in those little bites worked perfectly together.
My primi piatti was a spaghetti with pulpo (octopus): as you can see, I had eaten half the plate before I remembered to take a picture and that is simply because it was the best pasta in the world! Remember that scene in When Harry Met Sally? That was me eating this dish, people turned around and stared (and ordered the same thing I was having) when I took my first bite, it was just that good.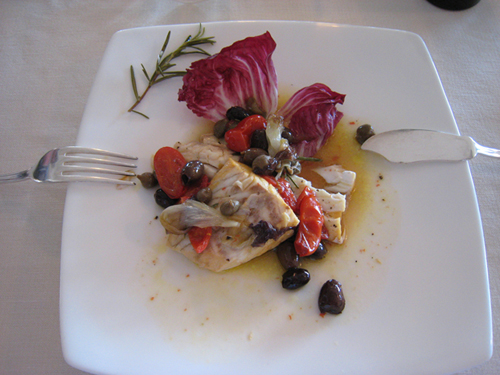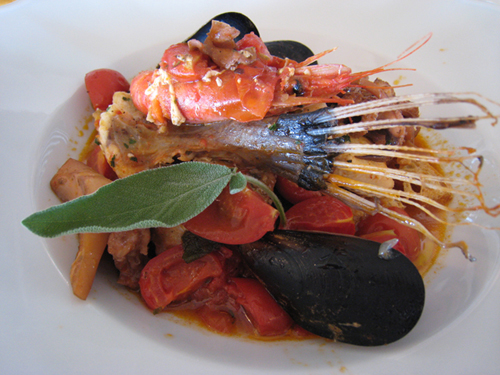 My secondi piatti was fish (I can't remember the variety) with capers, olives, cherry tomatoes and rosemary that was so very tasty and fresh… but not as impressive looking as my friends' soup. Yes that's fish and seafood soup, or more precisely caicciuccohe, a Livornese specialty that the restaurant is famous for. Impressive no?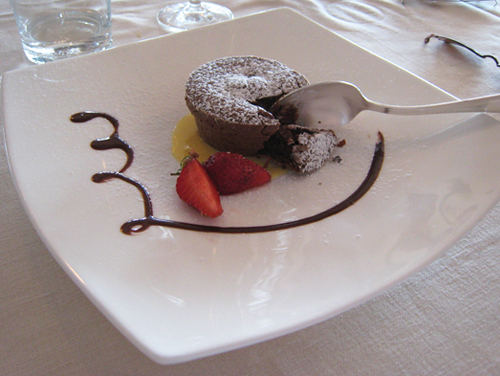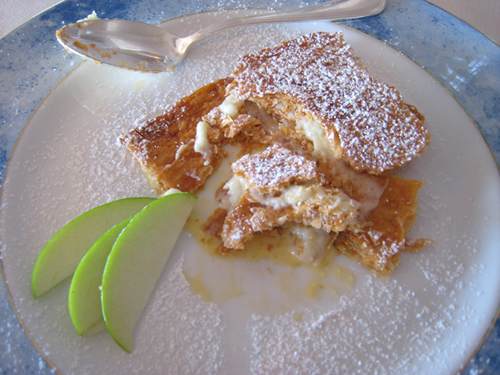 I always have room for dessert so yes, I had dessert after all that even if the waiter called me what sounded suspiciously like "pig" in Italian! – and then had a good laugh about it! I ordered the only chocolate thing on the dessert menu (typical), a molten chocolate cake, which was good but obviously not as phenomenal as that pasta dish! My friends had the spiced pear and the mille-feuilles.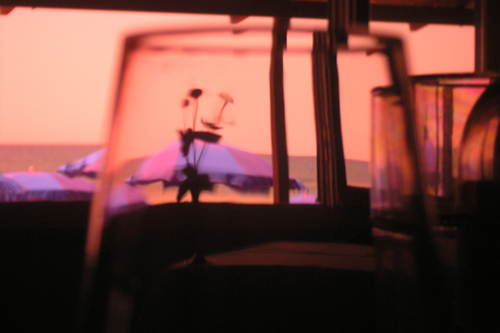 Some meals, like some people, form a permanent imprint on your mind and in your heart. I have a terrible memory but I still remember everything about that meal – and that magical day – as if it were yesterday. Needless to say that we ended up spending a couple of hours on that beach that afternoon wanting to prolong this magical day before we had to head back to reality.
If you ever find yourself in Tuscany, I guarantee you that La Pineta is certainly worth going out of your way for…
La Pineta
27 Via dei Cavalleggeri Nord
Marina di Bibbona , Italy
39-0586-600-016

Related Posts: