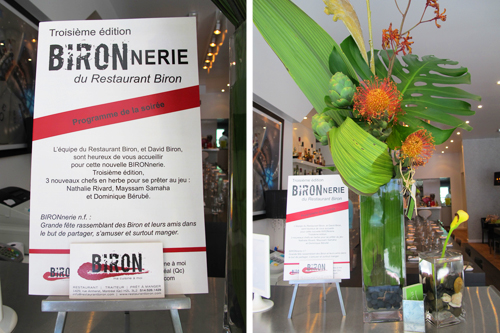 ** Please note that Restaurant Biron is unfortunately now closed. **
I got the call when I was in Copenhagen a few weeks ago that I had "won" a seat to participate in the next Bironnerie at Restaurant Biron. I didn't think much about it until I got back to Montreal and then panic struck! I thought of backing out, canceling, what was I thinking when I answered the call to participate? I mean this was serious, every food blogger in town was going to attend this event and eat my food! I was a nervous wreck! But Charlotte wouldn't let me back out of it and encouraged me to go ahead with it… and I am so glad I listened to her!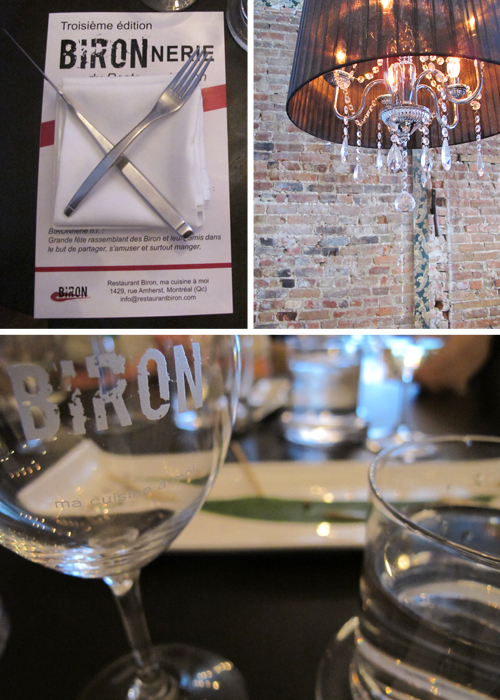 For those of you who don't know how a Bironnerie works yet: every month, the restaurant invites 3 amateurs chefs to play chef for one night. My partners in crime that night were 2 amazing foodies and food bloggers, Nathalie from Foodies Emporium and Dominique from 2Capricieux. The dinner is a 5-course meal of which we each pick and cook one. The chef and his team cook the other two services. Needless to say that it took me a long time to decide on my course and recipe (dessert would've been my first choice but Nathalie had already picked it 🙂 ). I finally gave up trying to pick and sent in a few recipes and let Chef Biron choose one.
I arrived at the restaurant at 2pm on July 6th to start prepping. The kitchen staff at Biron is exceptionally nice and helpful. They immediately put me at ease the minute I stepped into that kitchen. Ryan was particularly helpful in playing sous-chef to little old me. I was told again and again that I was the chef and I had to tell them how to do things, which is a concept that takes a certain getting used to. I was done with the prepping early and spent the afternoon relaxing with a chilled glass of white wine trying to stay cool. Have I mentioned that it was 40 degrees outside that day? And that there was no air conditioning in the restaurant? And that it was probably 50 degrees or more in the kitchen? Yes, it really wasn't the best day to be in the kitchen but it gave me a whole new appreciation for the job and every one who has to do it day in day out, no matter what.
People started arriving at around 7pm and by people, I mean food bloggers, friends and my family. I knew nearly everybody in the restaurant! I started getting a little bit nervous then but more about the speaking that I had to do then the actual cooking. A few amuse-bouche were served first while we got ready to start cooking the menu. We all helped plate the first dish, a tomato tempura on a bed of raw asparagus salad with an injection of truffled soy sauce.
Once that was out on the tables, it was time to start my dish, a fresh pea pancake topped with smoked salmon a yuzu-flavoured crème fraîche, shiso and salmon roe. It's great to have all that help in the kitchen. Making 200 mini fresh pea pancakes à la minute and plating 25 plates doesn't feel so stressful when you have so many people helping you out. It was actually more stressful to speak and explain my dish to the room, which I did in about 10 very fast seconds! I realize now that I am so much more comfortable behind the stove than I am in the spotlight of the dining room. The rest of the evening went off without a hitch. We all danced around each other in the smallish kitchen, like a well choreographed dance troupe, getting all the dishes plated and out on the tables one after the other.
Dominique's cod fritters with spicy orange and chive mayonnaise were next and they looked absolutely gorgeous on the plate. Then the restaurant's chicken supreme cooked in olive juice and Moroccan lemons on a bed of Dupuy lentils with a reduction of balsamic vinegar got plated and served behind my back while I was too busy manning the stove so I only saw that dish in pictures! Finally, Nathalie's cardamom Krumkake with the most amazing strawberry ice cream was a welcoming refreshing ending to an amazing meal!
I encourage everyone who is passionate about cooking to try this at least once. It was an amazing experience that I would do again in a heartbeat! I was exhausted and had a killer headache at the end of the night but I was ready to do it all over again immediately! That rush of adrenaline is addictive! Who knows, you might find me in the Biron kitchen again sometime soon just for the fun of it!
On the menu that night:
Fried tempura tomato with an injection of truffled soy sauce by David Biron
Fresh pea pancakes topped with smoked salmon a yuzu-flavoured crème fraîche, shiso and salmon roe by yours truly
Cod fritters with a spicy mayo and lime by Dominique Bérubé
Chicken supreme cooked in olive juice and Moroccan lemons on a bed of Dupuy lentils with a reduction of balsamic vinegar by David Biron
Cardamom Krumkake with strawberry ice cream on a strawberry and tarragon coulis by Nathalie Rivard
Thanks to David Biron and Stéphanie Quintal and to the whole Biron team.
Thanks to Charlotte for organizing this amazing event and for pushing me to do it!
Thanks to Jérôme Paradis for all the pictures.
Thanks also to Stéphane from zencancook for the inspiration behind my dish. You can find the recipe for the fresh pea pancakes on his website.
Restaurant Biron
1429, rue Amherst
514 528 1429
www.restaurantbiron.com

Related Posts: