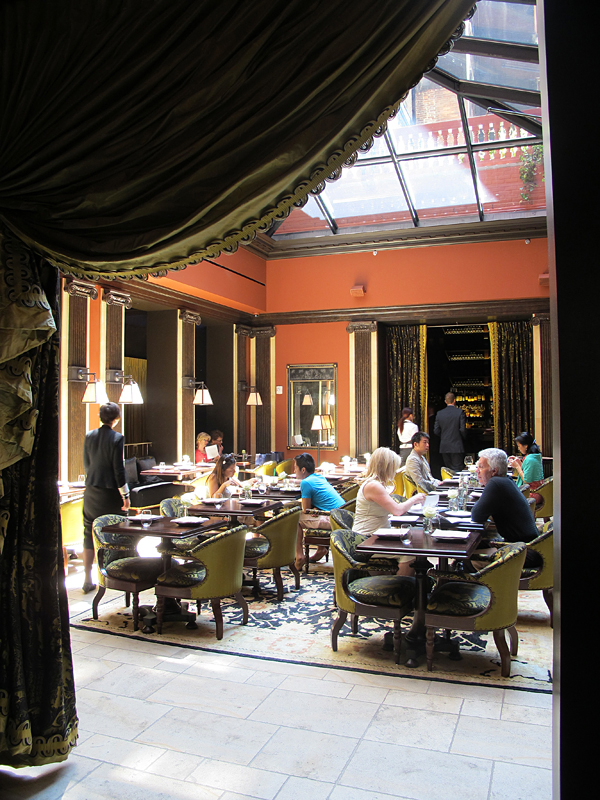 I was in New York last weekend and for the first time in a long time, I didn't do too much planning or make too many reservations. The only thing I knew for sure before leaving was that I was going to eat at The NoMad restaurant, the latest venture from chef Daniel Humm and general manager Will Gidara of Eleven Madison Park. I had seen photos online of the hotel and its several dining spaces and everything looked absolutely beautiful. It was no different when I got there. The spaces (atrium, bar, fireplace, library, parlour) are absolutely gorgeous, opulent and rich with dominant dark woods, plush upholstered seats and rich fabrics.
I took a quick walk around the spaces before sitting down for lunch. Some of my favourite rooms include the dimly lit bar decorated in dark wood with carved elephants holding up the shelves of colourful backlit bottles which made me want to order an absinthe for some strange reason. The library was also a favourite, with hundreds of books lining up 2 of its walls on two levels which makes it feel as if you're wandering around an old medieval castle… or a movie set.
We were seated in the atrium, which had the most wonderful light shining through its glass roof and felt like a perfectly calm oasis in the middle of hectic New York City. We started by ordering some non-alcoholic cocktails from the very elaborate cocktail list.
The dishes are all based on creations by Daniel Humm for Eleven Madison Park but simplified and made more accessible for The NoMad. Make no mistake though, there's nothing simple about the complex flavour combinations featured in every single dish we sampled at lunch that day. The plates are all gorgeous, colourful and beautifully arranged although we are far from the fine white porcelain dishes of EMP and into more casual ones with more texture and subtle neutral colours. Everything we had, from the duck to the scallops to the beef was delicious yet I am still feeling some lingering regret for not ordering the roasted chicken for 2 stuffed with foie gras, brioche and black truffles. We saw it go by and it looked absolutely amazing. It's definitely on my list for my next visit.
The service is the same kind of excellent service that you get at Eleven Madison Park, a perfect balance of courteous, polite, attentive yet unpretentious staff. I've often wondered how they manage to attain that level of service where you feel like a star yet it's never stuffy or overbearing. It is also all the little extras that make a a dining experience at The NoMad so special, like the extra dessert brought to our table by our waiter because he thought we just had to try it; or that box of biscotti brought over when I asked for a paper napkin to wrap my biscotto in to take with me…
The dessert cart is there to conclude the meal at lunch time. Oversized raspberry macarons, chocolate and lemon meringues tartelettes and kouign amann were some of the choices present when I was there. The desserts are plated tableside with a variety of accompanying creams and jams. Unfortunately, and in my humble opinion, they were just not at par with the food and my kouign amann was actually dry and not as buttery as it should have been.
My only regret was not being able to order the tasting menu, which is only available at night. It features the "milk and honey" dessert which I was looking forward to tasting. I guess it just means that I will have to go back there on my next trip, although reservations are going to be harder from now on since The NoMad just obtained 3 stars from the New York Times on June 19.
It is also worth noting that they've just inaugurated their rooftop terrace which is open 7 nights a week and features a 5-course tasting menu. Tickets for the rooftop go on sale at 11 a.m. every day. For more details on that, head this way.
1170 Broadway & 28th Street
New York, NY 10001
+1 212 796 1500
Opening Hours:
Breakfast
Monday to Friday: 7 to 10 a.m.
Saturday and Sunday: 7 to 11:30a.m.
Lunch
Monday to Sunday: 12 p.m. to 2 p.m.
Dinner
Monday to Thursday: 5:30 to 10:30 p.m.
Friday and Saturday: 5:30 to 11 p.m.
Sunday: 5:30 to 10 p.m.


Related Posts: