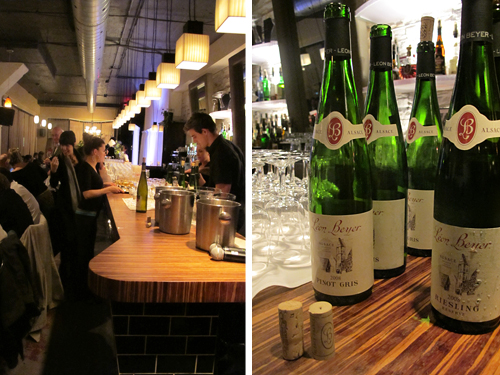 Wednesday night was the 3rd Alsace au menu evening. I hadn't been to any of them yet and it was time to fix that, especially that this evening was going to be a Latino one, and I absolutely love Spanish and Latino food! The evening took place at Pica Pica, a fusion Spanish and Latino tapas restaurant, and started off with a glass of Crémant: we were off to a good start! The place was buzzing with food bloggers, some members of the press and a lot of people who were just there for the good wine and food.
I was warned by some "experienced" Alsace attendees to go easy on the wine and I'm so happy I listened! I am a red wine kind of girl usually but I must say that some of these wines can probably easily convert me to white, especially the Pinot blanc thatwas served with the main meal… but I'm getting ahead of myself!
The first appetizer, a very nice scallop ceviche, was prepared by presenter Philippe Fehmiu himself and accompanied by 2 different wines: Riesling, Willm 2009 et Riesling, Léon Berger 2008. My personal favourite among those was the Léon Berger which accompanied the ceviche beautifully.
The second appetizer was a Caribbean-style pulled pork "taco" mille-feuilles which was accompanied by a Pinot gris, Léon Beyer 2008. The pulled pork was delicious and made even more scrumptious by the accompanying wine. I would've easily had another plate of this!
Before the main meal arrived, sommelier Aurélia Filion from Bu sur le web, presented one of her favourite Allsace wines, a Cépage d'Alsace, Marcel Deiss 2008. Have you been counting? That makes it 5 different wines so far, so yes, pacing yourself is a very good idea!
The main dish was a beautiful plate which included chicken sofrito in a mole sauce, caramelized cod and chipotle lobster, among other things. It was accompanied by my favourite wine of the evening, a white wine that could convert me to a white wine drinker in a heartbeat, the gorgeous Pinot blanc, Arthur Metz 2009. Just a whiff of this wine will have you converted. It smelled (and tasted!) of roses and litchi. It was crisp and just sweet enough, I don't know much about wines but I do know that I liked this wine!
I was looking forward to dessert, especially since the description sounded so good: Alfajores with dulce de leche! However, I must admit that I was disappointed by it, which is very unusual for me! The alfajores was very dry and the dulce de leche parfait was not to my liking, with a hint of sourness that I did not find appealing. The wine that accompanied the dessert course was actually better than the dessert and my second favourite wine of the evening, a Gewurtztraminer, Arthur Metz 2009.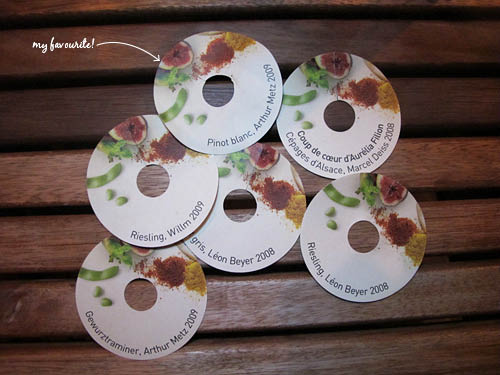 The final count of wine glasses was 7, including the Crémant (which I don't have on the picture above)! All in all a very enjoyable evening that was made even more fun by the good food, the abundance of wine glasses and the company of like-minded foodies.The night was also punctuated by some interesting speeches and anecdotes about Latin America by hosts Philippe Fehmiu and Maria Sanz.
The next Alsace au menu evening is sometime towards the end of November and will be a Mediterranean edition. Maybe we'll see each other there, I'll be the one holding the glass of white wine 😉
Note: I am now a blogger for the new Alsace au menu blog so check it out and read my post there every month! (added on March 27, 2011)
Alsace au menu
Follow them on Twitter: @alsaceaumenu
Like them on Facebook: http://www.facebook.com/AlsaceAuMenu
Bu sur le web
Follow Aurélia on Twitter: @busurleweb
Restaurant Pica Pica
1310 De Maisonneuve Blvd East
514 658 2884

Related Posts: