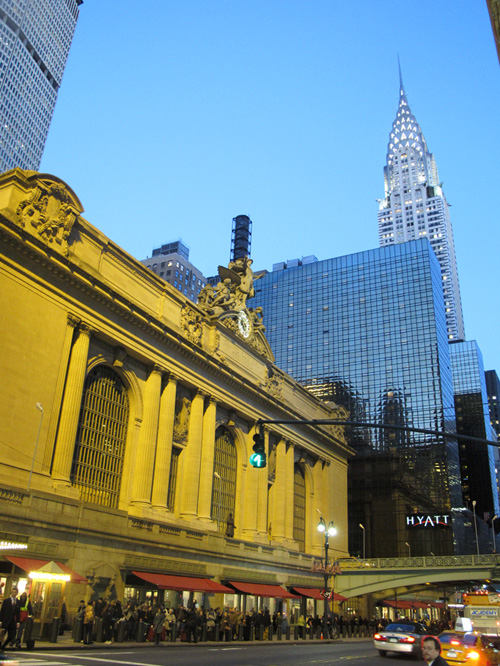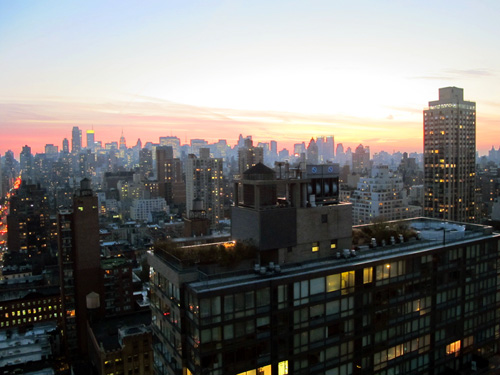 Women in business suits and running shoes, school kids in uniforms wheeling around heavy school bags, doormen in uniforms opening doors, nannies pushing fancy strollers… this is my New York, the upper east side of Manhattan that was my home for 3 years when I was 17 and the place I go back to every 6 months. I love waking up to the view towards downtown from the 29th floor apartment that I call home here. I may roam in the posh upper east side neighborhood but I love everything about this city. I love its gritty subways, the smell of food everywhere, the sense of urgency in the air as if everyone has somewhere important they need to be and how small one feels among the over-sized architecture. My feet get an extra spring in them when I walk down the streets there, and my face automatically lights up into a smile. New York fills my heart with excitement and my mind with inspiration; the possibilities are endless there and the opportunities infinite.
That is true of the food opportunities as well. It is torture for a foodie to only have 4 days in the city and have to decide on where to eat! So many restaurants, so little time, even if you fill out every hour of every day with a food-related rendez-vous, which I did! It is even more impossible to decide on where to go when you have something to celebrate. I had a birthday to celebrate last Friday and it took me weeks to finally decide on Le Bernardin following Eve's suggestion on twitter (thank you Eve!). I don't know why I hadn't thought of it before really. I met executive chef Eric Ripert when I was at the Food & Wine Festival in South Beach last year and thought he was the nicest, most generous man. I had told myself that I should try and visit Le Bernardin next time I was in New York and I had completely forgotten! So glad Eve reminded me. It is not often that I eat at a restaurant that's been awarded 3-stars by the Michelin Guide and 4 by the New York Times. The experience now ranks in the top 10 dining experiences I've ever had.
We started with a cocktail and an amuse bouche of poached shrimp on a bed of sweet potato purée with a sambal emulsion. If this was any indication of how the rest of the meal was going to go, I couldn't wait to dig in because this first dish was just delicious! We opted for the Chef's tasting menu ($185 per person, $325 with wine pairing) and the food started coming. I'm sorry to say that in my haste to start eating, I forgot to take a picture of the first dish, which was a smoked yellowfin tuna "prosciutto" with Japanese pickled vegetables and crispy kombu. I apologize about that! Now, let the food parade commence!
And the desserts:
Coming from Montreal, what always impresses me the most about these high-end Michelin-star restaurants is the level of service you get. We have amazing food in Montreal but none of the restaurants in the city have that level of service. While at Le Bernardin, I looked up from my plate at one point and all I saw was what seemed like a perfectly choreographed ballet of waiters, weaving in and out between tables without ever letting their presence be felt. Plates are changed, glasses refilled, cutlery replaced constantly and it never gets in the way of a conversation or the intimacy you share with your dining companions. The waiters are courteous, knowledgeable, polite, and the restaurant is elegant without being stuffy. By the time we asked, chef Ripert had already left the restaurant. I would've loved to have him autograph the complimentary menu and Zagat guide book we got on our way out and to tell him how I truly enjoyed spending my birthday there.
"Fish is the star of the plate, not the chef" – states the last page of the menu in big letters. I tend to agree with that statement because the fish (all sustainable) on the plate is absolutely phenomenal, but then again, where would that fish be without the talent of the chef and his whole team?
Le Bernardin
155 West 51st Street
New York City
212 554 1515
Lunch
Monday–Friday noon – 2:30pm
Dinner
Monday–Thursday, 5:15pm – 10:30pm
Friday & Saturday 5:15pm – 11pm


Related Posts: