It seems only fitting that my last post of 2010 should be about my favourite desserts this year. I have had an amazing year of good eats all over the world, from London to Copenhagen and from Beirut to New York and of course my hometown of Montreal, where we are spoiled when it comes to amazing restaurants. In case you didn't know by now, I have a very sweet tooth and I always leave room for dessert, no matter how full I am. So here is my roundup of 10 of the best desserts I've had in 2010, whether made at home or eaten in a restaurant. Please note that it was too hard for me to list them by order of deliciousness so they are listed in no particular order.
Patrice Demers's "green" dessert: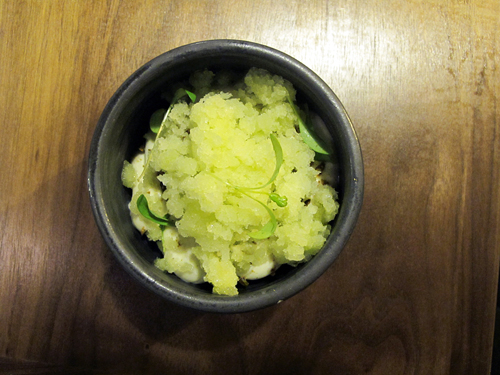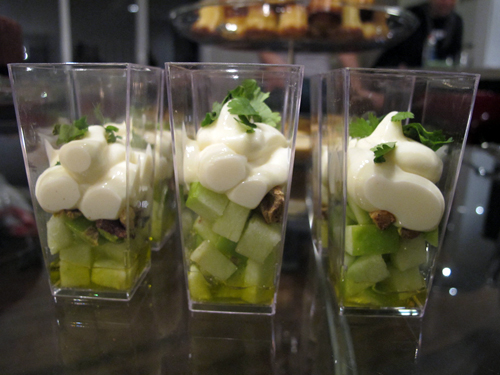 2010 was the year I discovered the genius of Patrice Demers, first with his chocolate "pot-de-crème" at Newtown and then with this green dessert at Les 400 coups. I have since made it several times, mainly because I had a craving for it. The first picture is of the green dessert at Les 400 coups and the second one is my take on it at my 3rd annual dessert party.
Momofuku's apple pie cake truffles: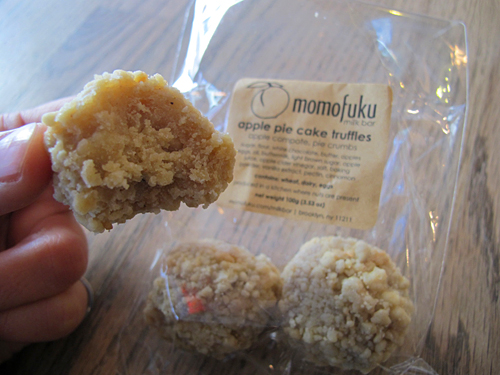 My mistake was buying only one bag of these, I should've bought 10 because I should know by now that anything that comes out of Christina Tosi's (pastry chef at Momofuku) kitchen is genius!
Beignets with a salted-butter caramel dipping sauce at Le St-Urbain: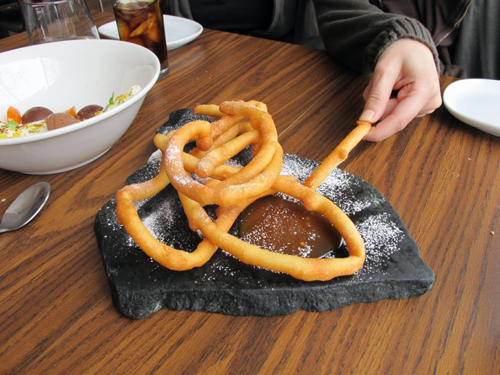 Fried dough with salted-butter caramel, nothing more to say here…
Thomas Keller's chocolate bouchons:
Very similar to his chocolate brownies, these are just as luscious and so chocolatey. If you're a chocolate lover, then these are a must! They are from Thomas Keller's Bouchon book but you can also find the recipe here.
Christophe Michalak's chocolate moelleux with cappuccino mousse:
I tasted these at Michalak's book launch in Montreal this past November. Michalak is one of the best pastry chefs in the world. There was a huge buffet of delicious desserts at his book launch but these stood out as my favourites. Even though I had already had way too much sugar that night, I just had to have seconds of this one.
Choux pralinés and éclairs from Pâtisserie de la gare: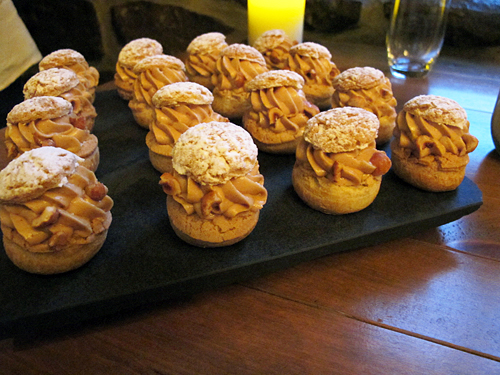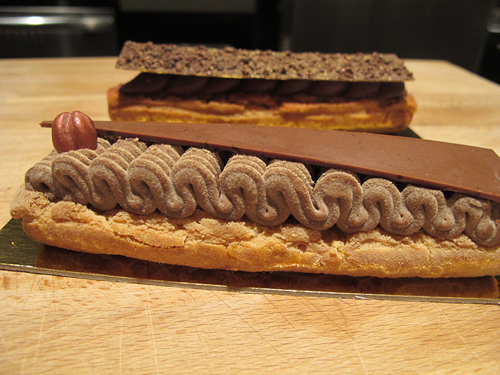 Definitely the best éclairs I've ever had! I've tasted the chocolate, espresso and caramel/raspberry versions and they are all out of this world! So good that I decided they would be the ones to make the desserts for the Dishcrawl event I helped organize. The picture of the praline choux à la crème was taken at the Michalak event but was (and is) made by Pâtisserie de la gare, whose pastry chef worked with Michalak in Paris for 5 years.
François Payard's verrine du japonais: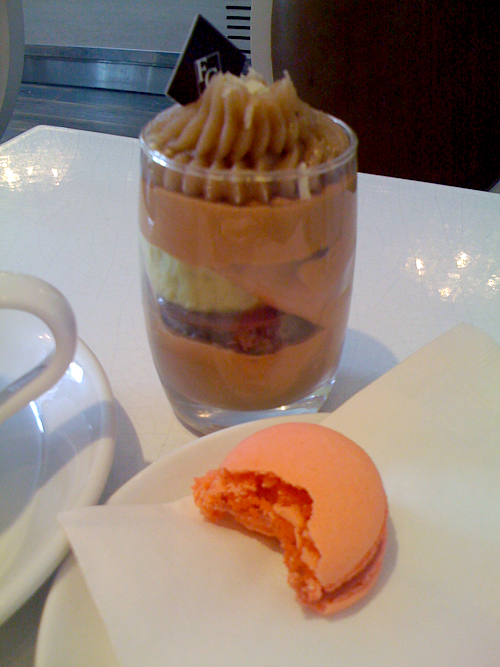 From their description: "Layers of hazelnut dacquoise, milk chocolate mousse, yuzu citrus crémeux, milk chocolate chantilly and dark chocolate glaze". I had my first one of these back in April and had to go back and have another one on my recent trip to New York. One of the best desserts I've ever had!
My Kugelhopf's tahini date shortbread: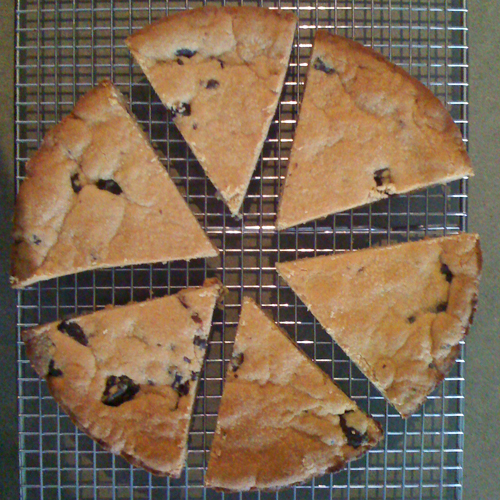 Voted "best cookies in the world" first by me, then by my dessert party guests. Easy to make and seriously addictive, I have made these a few times since reading Kerrin's post in October. I am still awed by how good they taste every time I bake a new batch (and almost burn my tongue with that first cookie because I'm too impatient to let it cool)
Cannelle et Vanille candied kumquats and pistachio financiers: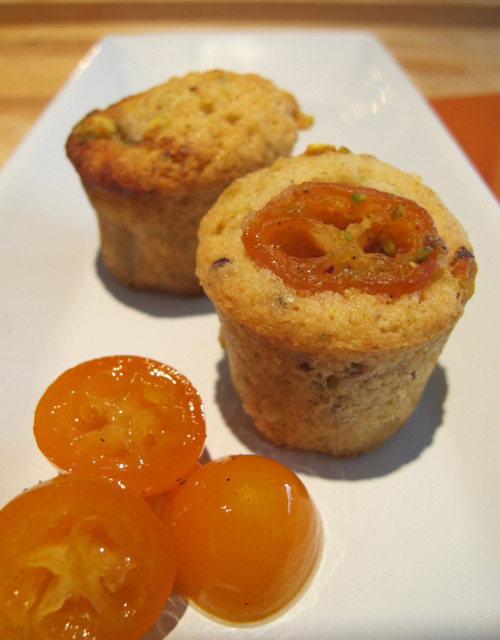 2010 will also be the year when I came to the conclusion that financiers are my favourite things to bake. They are easy to make, the combination of flavours are endless and they are absolutely delicious. My favourite combination so far has been the candied kumquats and pistachio one from Cannelle et Vanille.
Homemade panettone:
This is a once-a-year event only (around the holidays) and I was lucky enough to be at the right place at the right time: the 19th anniversary dinner of Buonanotte. Every single food blogger in Montreal was talking about this panettone for days after we tasted it. This is a world away from the panettones you can purchase at your local supermarket. My wish for 2011 is that they decide to start selling it!
Bonus number 11: My birthday dessert at Eleven Madison Park: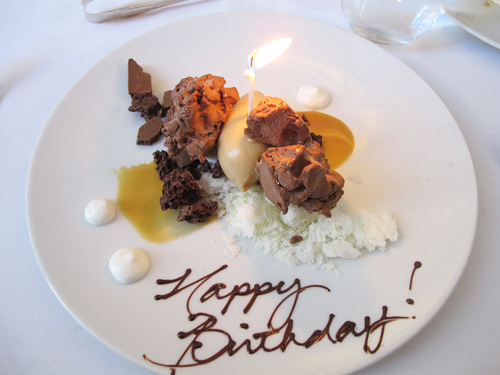 This dessert concluded an unforgettable birthday lunch at EMP this past November. Chocolate composition with variations (dehydrated chocolate mousse, chocolate honeycomb, etc.) with milk – absolutely delicious!
This year is also the year I started to blog. The response has been great and I have met so many amazing people who are just as passionate about food as I am. I want to thank you all for reading, tweeting, sharing, commenting, etc. Have a very sweet 2011!

Related Posts: