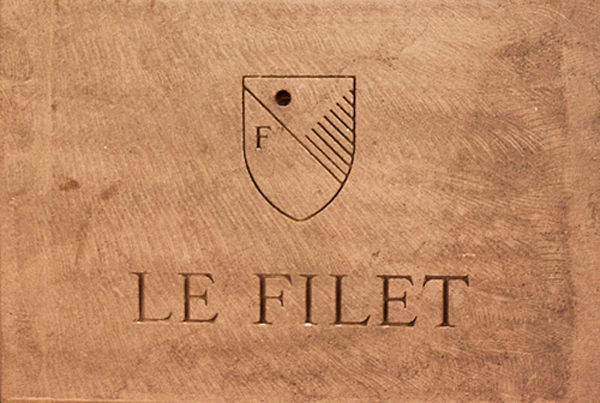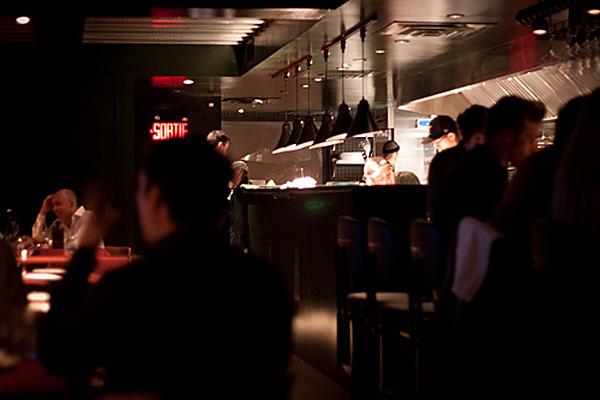 I have a confession to make: I've never been to Club Chasse et Pêche! Yes, I know, it's one of the best restaurants in the city and I still haven't been, shame on me! It's on my list though and I will hopefully get there soon but in the meantime, when I heard that Le Filet – CCP's little brother – was opening soon, I got there asap, on the 4th day after they opened, to be more exact.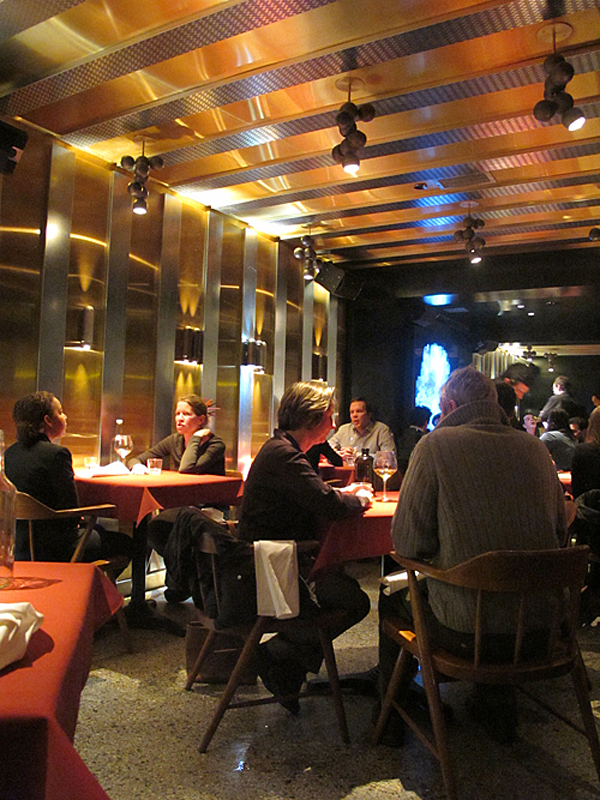 Le Filet is discreetly (read: hard to find) situated on a stretch of Mont-Royal Avenue one doesn't normally think of when searching for good eats. It is across the street from Jeanne Mance Park which will be nice in the summer when their terrasse opens. The decor is contemporary with an open kitchen in the back and a built-in aquarium in one of the walls yet the wood chairs and vermilion coloured table cloths lend a touch of old-world charm to the restaurant. The staff is friendly and knowledgeable, which is why we put our fate in the hands of our waiter Alex and let him decide on our meal that night. It would've been impossible for me to pick only a few items from the menu because everything sounded absolutely delicious! The menu is divided into a few sections: Small Plates, Oysters, Broths & Shellfishes, Mont-Royal Salads, Raw, Warm Tide, Home Made Pasta, Amphibians and For Two People. With the exception of the "For Two People" section, all plates are made small and can be shared "tapas" style.
The plates started coming and kept coming until we decided we'd had enough. In all, we ended up sharing 11 dishes including 2 desserts. I wanted to share my favourites with you but I found myself listing everything we ate so I will refrain and let you drool over the pictures instead (thanks to Nabil for all the photos!)
This was an absolutely great meal but I do have a point to raise: it is very hard in Montreal to find a restaurant where the desserts are as good as the rest of the meal. Although the desserts at Le Filet were good, they just weren't at the same level of perfection as all the other dishes. I am a dessert lover and I find myself often disappointed when the end of the meal approaches. With the exception of Les 400 coups and one or two other restaurants I feel like the dessert menu is always an afterthought. Is it because most restaurants don't have pastry chefs in their kitchens? I'd love to hear your thoughts on that.
Le Filet
216 Mont Royal East
514 360 6060
Tuesday-Saturday 5:30pm-11:30pm

Related Posts: