Now that summer is in full mode, I wanted to tell you all about a wonderful weekend I spent in Lebanon's Chouf district last fall. It all started with a desire to plan a weekend away for my family and I that would involved discovering a region of Lebanon that I didn't know, as well as eating, of course. It was my first time planning a trip to Lebanon like I would any other country instead of just going back home for a visit and doing the usual activities.
I wanted a region that wasn't too far, although to be fair, no where in Lebanon is "too far" by North American standards since the entire country is 200km long by 50km wide. It does get long though because roads to faraway regions have to go through Beirut and its traffic most often than not. Some also wind around steep mountains, which means driving is slower and more thrilling/terrifying depending on how you feel about driving on narrow country roads with nothing between you and the valley 2000m below. But I digress. So my criteria were close enough so we wouldn't be driving for hours and a place that I didn't know well with some culture, lots of good food and great accommodations. I actually decided on the accommodations part of the weekend before deciding on the destination. I had (and still am) been obsessing over the beautiful properties on L'Hôte Libanais' Instagram feed for a while now and I knew that I wanted to stay with them for sure. L'Hôte Libanais offers a more authentic and sustainable approach with their collection of guesthouses housed in heritage residences. The stays include a traditional Lebanese breakfast and allow for meaningful interactions with the hosts for that personal touch I seek when I travel. I had spotted the breathtaking Bouyouti property and decided to design my weekend getaway around that.
FOOD
The next thing I booked was a custom-designed trip with Taste Lebanon. Founded by my friend and cookbook author Bethany Kehdy, Taste Lebanon is a great way to discover the country's culinary delights. From Beirut's bites to rural escapes, you can book one of their tours or get them to custom-design one for you. Wonderful tour guide Iffat accompanied us all day and put together a delicious plan for my family and I that also included transport from Beirut to our accommodation in the Chouf. Taste Lebanon just happens to be partners with L'Hôte Libanais so it worked out perfectly.
Our day started in Beirut with breakfast at a traditional restaurant overlooking the sea. We then made the hour-long drive to Deir El Qamar, a village with some great significance in the Chouf district of Lebanon. Deir El Qamar used to be the capital of the Mount Lebanon Emirate during the Ottoman Empire. I won't go into an elaborate history lesson, but the Mount Lebanon Emirate is what eventually became Lebanon. The village also held an importance place politically and culturally. Today, it's a quaint and charming place that's been remarkably preserved in a country that is notoriously nonchalant about saving its cultural and architectural heritage. We took a walk around the village's narrow lanes, up and down stairs and alleyways that carve a path between all the traditional houses built on the face of the mountain. The views around each corner are spectacular and unexpected, whether you're faced with the majestic valley beyond or a quaint courtyard entered around a traditional fountain.
Lunch was enjoyed at Beit El Qamar, a guesthouse and restaurant by Kamal Mouzawak behind Beirut's Tawlet, one of my favourite restaurants in the capital. Beit El Qamar's gardens are spectacular and a welcome reprieve from the sun. Their menu is filled with classics as well as exquisite local specialties and comfort dishes. While we were there, we toured the colourful guesthouse and I promised myself I would go back to stay there someday.
MUSEUMS AND HISTORICAL SITES
The Chouf district is one of the best preserved areas of Lebanon and is beautiful to drive around. It counts many museums and historical sites, including Atelier Assaf, which warrants a visit. The sculpting museum founded by the three Assaf brothers is impressive and the siblings are great conversationalists.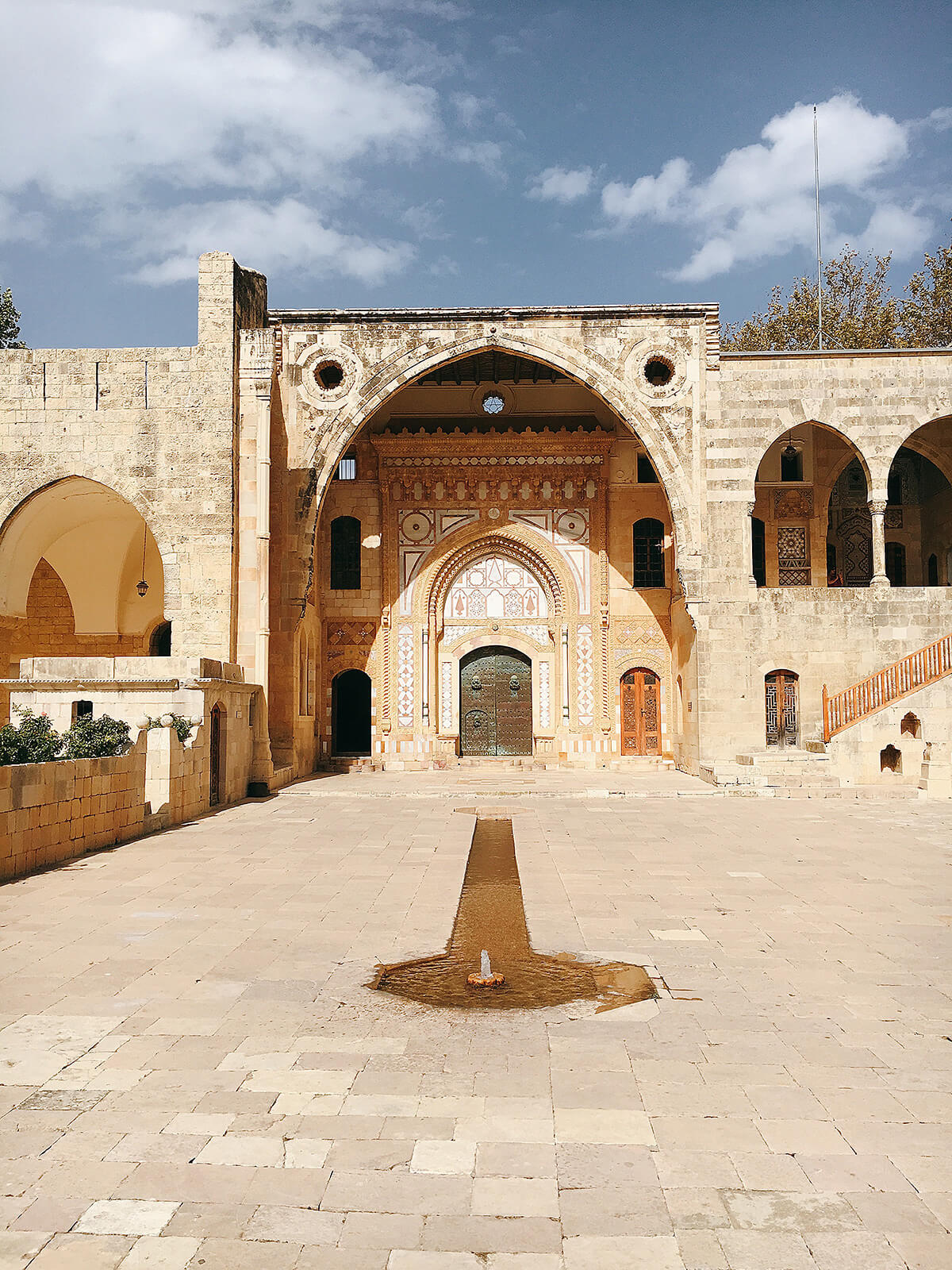 Of course one of the Chouf's most prominent attractions is the magnificent Beiteddine Palace. Built by Emir Bashir II between 1788 and 1818, it was his residence until the Ottoman empire took in 1840. The palace and museums are wonderfully preserved and a testament to how grand life was back then. You can imagine the carriages arriving in the immense entrance courtyard that leads to several sections of the palace, including beautiful garden, hammams, private apartments and more. I highly recommend the available guided tours. Today, Beiteddine Palace is the stage for the Beiteddeine Art Festival, one of the most important cultural events in the Middle East.
It's absolutely impossible to visit the Chouf area of Lebanon without visiting the Al-Shouf Cedar Reserve. The reserve is the most important one in Lebanon and counts three cedar forests, accounting for a quarter of Lebanon's remaining cedar forests. Cedar trees have been revered in Lebanon since antiquity. The cedar forests are "the oldest documented forests in history" and mentions of the trees date back to the third millennium BC. They have coveted and fought over by several cultures and have almost disappeared due to deforestation. The reserve is doing a great job at preserving the cedars as well as the surrounding flora and fauna, one of the most biodiverse in Lebanon. We visited the Maasser cedar forest through the Maasser entrance, which is the closest to some of the oldest and most impressive trees. You can choose among several self-guided trails or go on longer hikes with qualified guides. We only had time for a short, one-hour hike but I could've walked among the majestic 2000-year-old giants for hours. Unfortunately, Lebanon is not a country that takes very good care of its nature so finding myself in the middle of all this greenery was pure joy. The highlight of the hike was the famous giant Lamartine cedar tree that overlooks the western slopes of Mount Lebanon. The tree is said to be the cedar under which Alphonse de Lamartine sat in 1833 when he visited Lebanon. It's even more gargantuan than its compatriots and I felt like a tiny speck while staring up at its intricate branches.
ACCOMMODATION
As I mentioned above, my heart was set on L'Hôte Libanais'  Bouyouti before I had even planned anything else and I was not disappointed. The sprawling estate is just spectacular and was beautifully illuminated by the setting sun when we arrived. Bouyouti counts several independent houses scattered around the lush, adults-only property. The vistas from the houses' windows are breathtaking, taking in the surrounding nature and valley and often butting right against the mountain's stone face. Each stone house is suited for 2 or 4 adults and comes equipped with a kitchen and a living room. They're decorated with taste and simplicity, reflecting the traditional architecture and proudly featuring locally-made furniture and objects. As it was October, the estate was especially calm when we were there. The resident cats welcomed us and showed us around the great gardens, terraces and buildings. The pool reflected the setting sun and was especially beautiful. One of the most memorable part of this experience is the traditional breakfast that's included in the booking and brought to each house in the morning. The exquisite spread included homegrown eggs, fresh cheese and veggies, warm-from-the-oven manakish, homemade jams and more. Served on the rustic wood table under the vines with views of the surrounding mountains. It's the kind of place you wish belonged to a friend or a family member so you could spend your entire summers lingering about the extended property, moving lazily from courtyard to terrace to pool and back again.
Click here to read more of my articles on Lebanon.

Related Posts: